About HIPDC
Hindusthan Innovative Product Development Centre is a space for new age entrepreneurs and young minds to transform their innovative ideas into viable business propositions. This Incubation centre was approved by the Ministry of Small and Medium Scale Enterprises (MSME), Govt. of India, New Delhi to implement the scheme of "Entrepreneurial and Managerial Development of SMEs through Incubators". Incubation centre will provide technological assistance to incubatees which will be generated through mentors with multidisciplinary expertise. HIPDC will be a startup hub offering infrastructure of co-working spaces and full-spectrum business resources including hiring assistance, legal assistance and seed money.
Vision
1. Our primary vision is to facilitate a platform for budding entrepreneur to start a business venture with minimum risks.
2. To create a vibrant and sustainable ecosystem in college campus for nurturing and enriching of Creativity, Innovation, Entrepreneurship and IPR.
Mission
M1 To foster creativity and innovation thereby, promote entrepreneurship to enhance socio-economic development with environmental protection.
M2 Cultivate Fear Free, Open, Collaborative Culture of Innovation within college Ecosystem.
M3 Collaborate with bestin class technical and commercialization experts and bring them on Platform through, awareness, trainings, coaching and mentoring programs.
M4 Provide best in class Infrastructure, Advisory & Investment Support.
Process
HIPDC Team
1

Head of Institution

Dr. K. Karunakaran, Principal,

Hindusthan College of Engg. and Technology Sustainable

2

Incubator Head

Dr. K. Siva, Professor & Head, Dept. of Mechanical Engineering

Hindusthan College of Engg. and Technology

3

Manager

Dr. Y. Ras Mathew, Associate Professor, Dept. of Mechanical Engineering

Hindusthan College of Engg. and Technology

4

Academic Experts

Name

Area of Specialization

1

Dr. M. Mohan Raj, Professor, Dept. of Mechanical Engineering

Hindusthan College of Engg. and Technology

Thermal Science

2

Dr.M. Karpagam, Associate Professor, Dept. of Electronic and Instrumentation Engineering

Hindusthan College of Engg. and Technology

Power Electronics

3

Mr. R. Jayaraj, Associate Professor, Dept. of Computer Science and Engineering

Hindusthan College of Engg. and Technology

Computer Programming

4

Dr. R. Sakthivel, Associate Professor, Dept. of Civil Engineering

Hindusthan College of Engg. and Technology

Structural Engineering

5

Dr. B. Veerasamy, Associate Professor, Dept. of Electrical and Communication Engineering

Hindusthan College of Engg. and Technology

Circuit Design

5

Industrial Experts

6

Dr. V.S. Saravanan, Vice President, Indoshell Cast PVT. LTD.

Coimbatore, Tamil Nadu, India

6

7

Mr. Narayanan Mani, Managing director, Messer cutting systems India P ltd

Coimbatore, Tamil Nadu, India

7

Legal Advisor

8

Ms. R. Hemalatha

8

Auditor Finance

9

Mr.Natarajan Ravi Sankar, Chartered Accountant
Incubation Facilities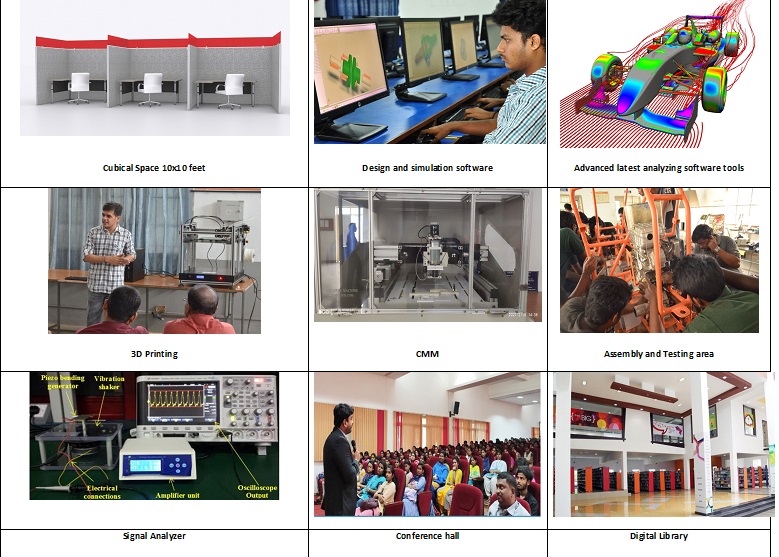 Thrust Area in Incubation Centre
Engineering Design
Refrigeration and Air Conditioning
Composite Materials
E Mobility
UAV's and MAV's
Computational Fluid Dynamics
Control System design
Automation
Data Mining
Cyber security
Internet of Things
Block Chain
Image Processing
Machine Learning
Cloud Computing
Soft Computing
Artificial Intelligence
Renewable Energy
Food Processing
Incubatees
Name

Company

Anand Balraj

AR LASER FABRICATORS

GSTIN : 33ABTFA7176R1ZG

S.PANDIRAJ

SARASWATHY FENCE

GSTIN : 33CKEPS5212C1ZL

SUDHAKAR G

GSR VAAGAI MARA CHEKKU AALAI

FSSAI NUMBER :22417565000086

Chandrakanth SB

VIPRA E-VEHICLES

Naveen Eswaramoorthy

Eswar Enterprises

GSTIN : 33ARAPN8404C1ZA

Baggio A.F

REDEEM

GSTIN:33DWVPB4033E1ZR

Sherlin Jose

JJ Rubber sheet Dealers

Varun

Yavanachandran

E.T.I.S Enterprises

Suryanarayanan

DNXT IDEAS INDIA PVT LTD