M.E. Communication Systems
The Post graduate programme, M.E.Communication Systems is an advanced level programme which aims to provide advanced technical knowledge and practical design experience to the students in the field of Communication Engineering. Students will acquire the capability to design, install, operate communication systems and also be able to solve the engineering issues, thus meeting the technological challenges of future communication requirements. The program helps to enable a solid foundation to the students who are seeking a career in signal processing, communication system design, Optical Networks,Software Defined Radio, Smart Antennas, Satellite Communication, Cognitive Radio ,LTE systems and high frequency system design.
VISION
To nurture Electronics and Communication Professionals with exemplary technical skills adorned with ethical values.
MISSION
M1: To establish a conducive and inspiring learning environment towards value based education.
M2: To develop the intellectual skills towards employability by fostering innovation, and creativity in learning.
M3: To provide a quality system for wholesome learning to achieve progress and prosperity in life along with moral values
PROGRAM EDUCATIONAL OBJECTIVES (PEOs)
PEO 1: To prepare the graduates to solve, analyze and develop real time engineering products by providing strong foundation in the fundamentals of Electronics and Communication Engineering
PEO 2: To prepare the graduates to succeed in multidisciplinary dimensions by providing adequate trainings and exposure to emerging technologies
PEO 3: To prepare the graduates to become a successful leader and innovator following ethics with the sense of social responsibility for providing engineering solutions
PROGRAM SPECIFIC OUTCOMES (PSO)
PSO1: Graduates will be able to provide solutions for real time embedded systems using Internet of Things to meet the global needs.
PSO2: Graduates will have the perseverance to design and develop product using cutting edge technologies in Signal processing and Communication systems.
HOD'S Message
The department of ECE is one of the most sought dept. at Hindusthan college of Engg. And Tech., Coimbatore. Here we focus on producing technical experts who suits for Industrial needs. Our department moulds the students to be an equipped professional with open minded thoughts for technological innovations. The strength of the department is faculty members who are dedicated and sincere, to work in bringing the skills of our students in various state-of-art technologies in the field of Electronics and Communication Engineering. The department has good and consistent placement record with students placed in many core and IT companies. Having undergone technical academic programme at HICET, we are sure that all passing out students of the department are capable of visualizing, planning and developing big projects of commercial and research interest in their respective field of expertise.
Our Infrastructure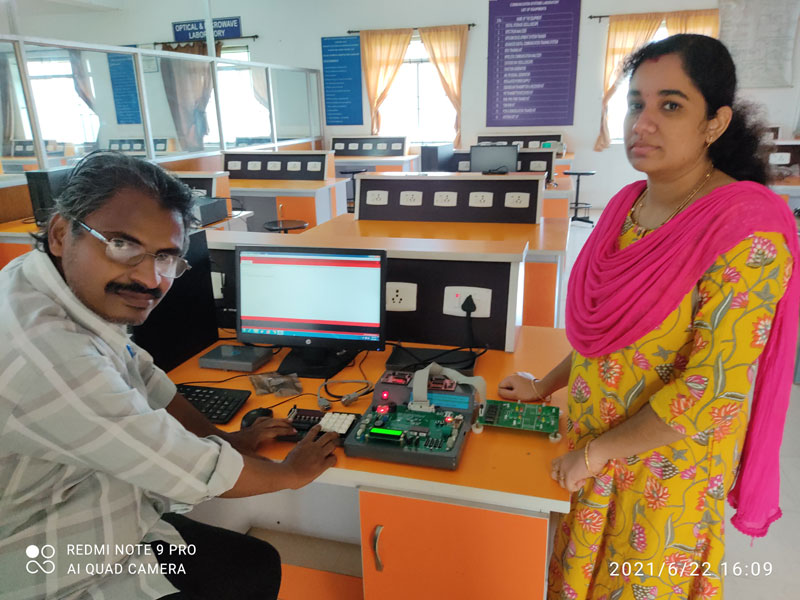 Lab
OPTICAL AND MICROWAVE LABORATORY
COMMUNICATION SYSTEMS LAB
SIMULATION LAB 1
SIMULATION LAB 2