B.E. Aeronautical Engineering
The Department of Aeronautical Engineering is located at Othakalmandapam, Coimbatore, on the sprawling campus of Hindusthan College of Engineering and Technology. It first opened its doors in 2005, with a capacity of 60 students. From the academic year 2008-2009 forward, the sanctioned intake increased to 120 students. The Department is directed by a dedicated team of teaching and non-teaching staff with a wide range of experience, and it has well-equipped laboratories and good infrastructure to support the autonomous curricular needs. Until now, the department has been in the forefront of advancing aeronautical education and indigenous research in the field of aeronautics. This was made possible by a capable, dedicated, and efficient faculty, as well as cutting-edge laboratory facilities.
The department works for student development and overall quality, as well as meaningful object-oriented academic engagement between students and faculty in a healthy environment. It also aids in the development of creativity, uniqueness, and group dynamism among students.The Department is proud of its students who have served in the Indian Air Force and Navy. Students are also placed in DRDO laboratories, Hindustan Aeronautics Limited, UTC Aerospace System India, Saffron Aerospace, Airbus Group India, BELL Helicopter India, GE, ALTRAN, Indigo Airlines, L&T Infotech, Info view, CTS, Infosys, and other companies. A significant number of students are pursuing higher studies in IITs and Foreign Universities.
VISION
To be a global player and to prepare the students with skills and knowledge for their successful deployment in the Aeronautical Engineering.
MISSION
M1:To develop the students as innovative engineers to address the contemporary issues in the Aeronautical field.
M2:To expose the students to the current trends and opportunities in the global Aerospace industry.
M3:To inculcate professional responsibility based on an innate ethical value system.
PROGRAM EDUCATIONAL OBJECTIVES (PEOs)
PEO 1: Graduates shall exhibit their sound theoretical, practical skills and knowledge for successful
employments or higher studies or research or entrepreneurial assignments.
PEO 2: Graduates shall become leaders and innovators by devising Engineering solutions for social
issues and problems, thus caring for the society.
PEO 3: Graduates shall have lifelong learning skills, professional ethics and good communication to
succeed in their life.
PROGRAM SPECIFIC OUTCOMES (PSO)
PSO 1: Apply the knowledge of Mathematics, Science, Engineering fundamentals, and an Engineering specialization to the solution of complex Engineering problems.
PSO 2: Use research-based knowledge and research methods including design, experiments, analysis and interpretation of data, and synthesis of the information to provide valid conclusions.
HOD'S Message
"Learning is a treasure that will follow its owner everywhere"
A path for making innovations in the field of Aeronautics is laid by the Department of Aeronautical engineering of Hindusthan college of Engineering and Technology. The department has put the sincere efforts in going further in its attempts to excel the set standards and it has been involved in various effective activities supporting our country to meet all expectations in the field of Aerospace. The curriculum of the program is designed to meet the requirements of Aerospace organizations and their associates engaged in either production or R&D. The prescribed core courses cover important and exciting areas of Aeronautical Engineering including Aerodynamics, Aircraft Structures, Flight Dynamics, Propulsion, Avionics, Aircraft Design, Rockets, Missiles, Aircraft Systems, Instrumentations and Aircraft Maintenance. Aeronautical Engineering program also offers the courses in regard to the recent trends in Aerospace technology such as Unmanned Aerial Vehicle systems, Satellite technology, Cryogenics and Nano science. HICET UAV (Unmanned Aerial Vehicles) Club is a new addition which is monitoring by Aeronautical Engineering Department. It aims to train the students in design, assembly, simulation and flying of different UAV models, which make every student specialize in the area of Unmanned Aerial Systems, which will provide them additional carrier opportunities.
Our Infrastructure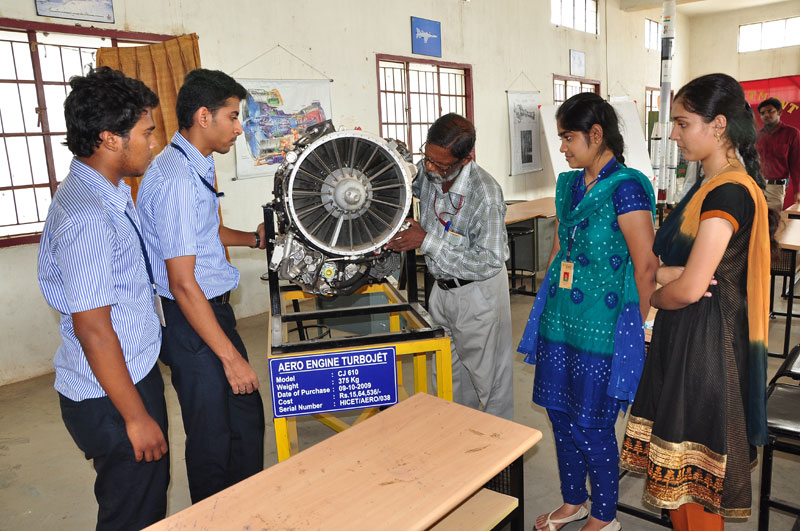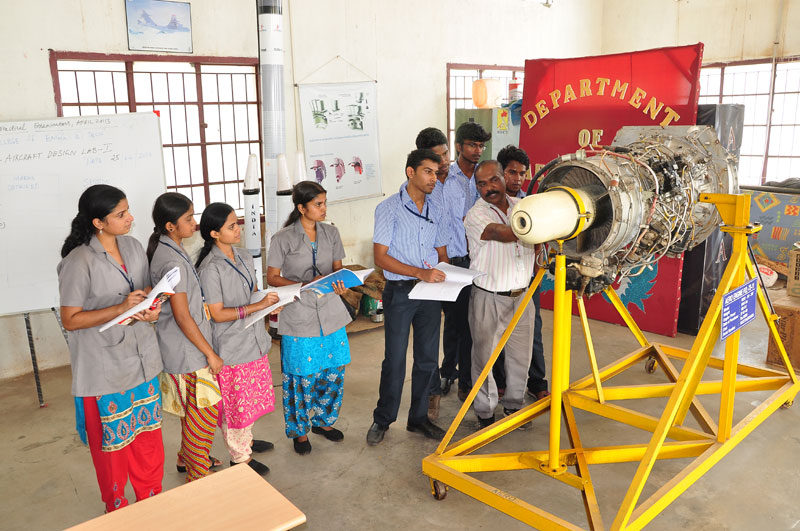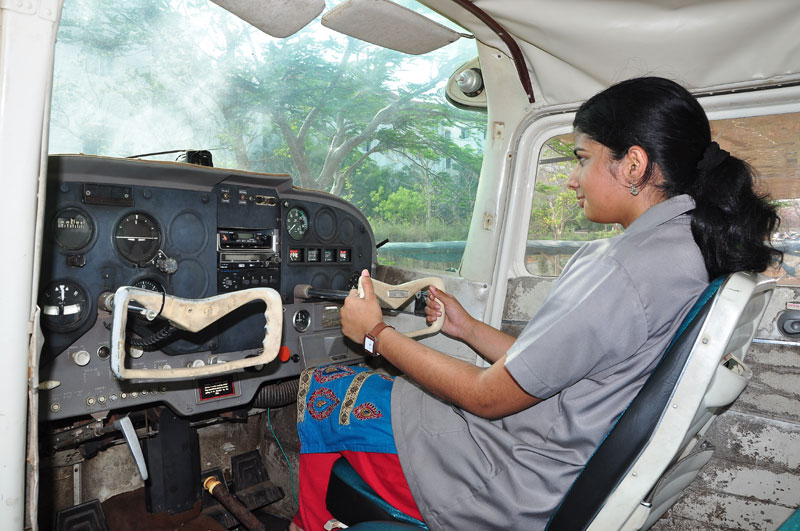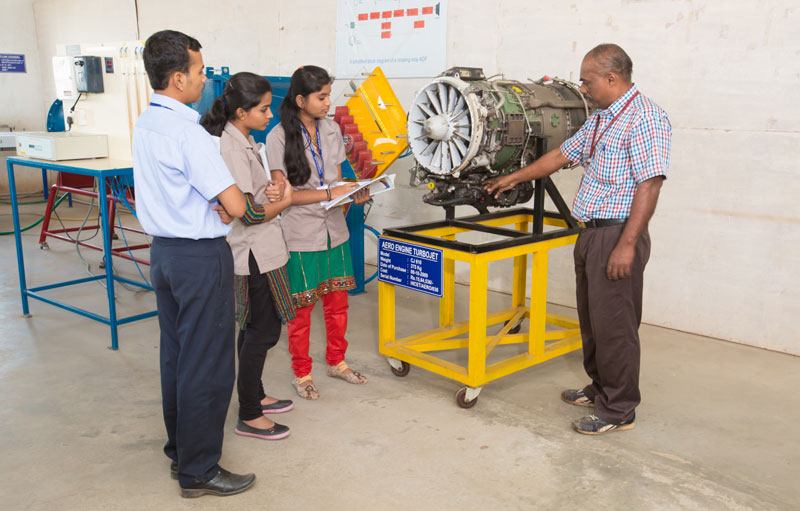 Lab
Aerodynamics Laboratory
CAD Laboratory
Propulsion Laboratory
Aircraft Structures Laboratory
Aircraft Maintenance and Overhauling Laboratory
Aircraft Systems Laboratory
UAV and Aeromodelling Laboratory